TLC Left Eye From Then Till Now
---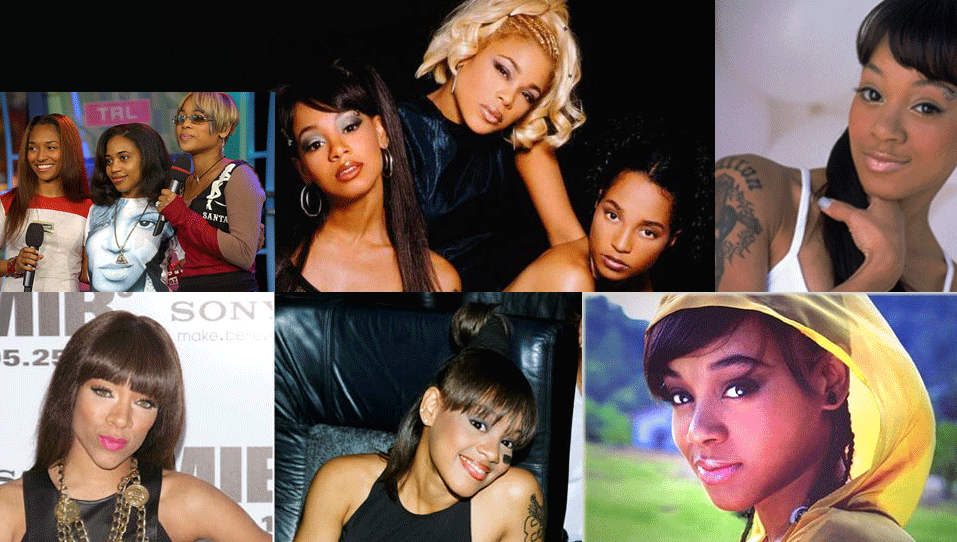 ( 4UMF NEWS )
TLC
Left Eye From Then Till Now:

The Hip-Hop Socialite recaps the hottest celebrity news and gossip of the last week, and drops a few exclusives….
I am a huge TLC fan, and this year is a big one for the groundbreaking girl group's surviving members, as they are celebrating their 20th anniversary!! With an album in the works and an upcoming VH1 biopic (and even talk of a tour), we can expect to see a lot more of  Tionne "T-Boz" Watkins and singer Rozonda "Chilli" Thomas in the months to come, but the ladies resurgence will be bittersweet. 
Eleven years ago, the group's third member, rapper Lisa "Left Eye" Lopes, was killed when she lost control of her vehicle while driving during a trip to Honduras. Her death is still being mourned by the millions of fans that loved her and her larger than life personality. 
Recently, I got the chance to talk to Stephanie Dayton, who worked as Left Eye's personal assistant at the time of her tragic death, and Left Eye's baby sister, Reigndrop Lopes. What they shared with me was heart-tugging, and at times, surprising. Because of TLC's impact on pop culture and music in general, this edition of "The Scoop"
 will focus on those interviews only. Check out highlights below: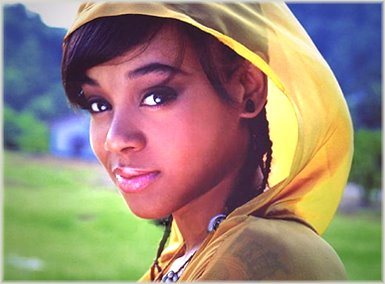 SD: "Actually she wasn't technically signed [to Tha Row]. What the situation was is she had a solo deal with Arista Records, and she was suppose to provide X number of tracks, I forget what the number was, as a complete project...I think it was 13 songs maybe. She turned in that music to LA Reid, and never heard a response back. She never got paid for it when she turned it in, and she never got a response. When she finally heard back from LA Reid, he said that he didn't believe there was a single in what she turned in, and he was going to assign her with some producers that he chose. She said that was fine, she just wanted to do whatever she needed to do so that she could get paid for the music she had created. She waited for months, and LA Reid never hooked her up with any producers or sent her any new music. After she consulted a lawyer, she was told that that was considered a breach of contract, which means the contract was null and void, which meant that she was a free agent, which meant that she could sign with Suge. So she'd planned on it, but she'd never gotten around to it. She hadn't officially been released yet, but there was a breach of contract that she'd planned on pursuing so that she could be free and sign with Suge."
"I don't know what transpired with the estate, if she had ever gotten paid that money eventually, or what the deal was, but that was right before we went to Honduras. She was spending a lot of time with Suge because she was anticipating signing with him. When we went to Honduras, that did not happen yet. I think it was more of kind of like a letter of intent type of a thing because she wasn't legally available to sign with another record label because she hadn't gone through the process of being legally released from her contract and presenting the breach of contract and all of that."
ON IF LEFT EYE EXPRESSED ANY HESITATION ABOUT WORKING WITH SUGE KNIGHT:
SD: "No, actually she thought, she honestly believed that Suge was sent to her from God because she was learning a lot of music business from his perspective and she was learning a lot...how to get things accomplished, how to go after certain things that she wanted as a solo artist. Things that she had not had the opportunity to learn yet, he was teaching her those things, and she just happened to hook up with him right when she was trying to get out of her contract with Arista. So she felt like that was kind of divine intervention, so she didn't think twice about it. She thought he was great. They were good friends; they spent a good bit of time together. She said she learned a lot, and a lot she planned on applying when we were going to return from Honduras, but she never got a chance to."
ON HOW LEFT EYE DECIDED TO DRIVE THE TRUCK AT THE LAST MINUTE MOMENTS BEFORE HER PASSING:
SD: "I was in the driver's seat getting ready to leave, and then she came and caught me as we were pulling off and told me she wanted me to take another vehicle and to run some errands and meet her later at a photo shoot. And that's when she got behind the wheel, and drove that vehicle, and within moments, had passed."
ON LEFT EYE'S RELATIONSHIP WITH HER BAND MATES AT THE TIME OF HER DEATH:
SD: "I think as with any relationship between females, there's going to be some tension in some areas because you're dealing with conflicting personalities. So I think it's like with any friendship or sisterhood, there were good things that happened, there were not-so-good things that happened. At that particular time, she was in the process of renegotiating the contract with TLC. So a lot of their communication was based on business, trying to hash out the contract. They had some things that they thought differently as far as the contract was concerned, but they were working through it. So I mean, I'm not really sure how to answer that. I think it's expected that you go through those when you're dealing with one contract and multiple people having to approve that contract. So I think it was pretty standard what they were going through."
RDL: "I know for a fact she was in a good place with Tionne 'cause she went to see her before she left, but Chilli, I'm not sure. I just know that she never got a chance to see Chilli, or Chilli never got a chance to see Lisa before she left. I really don't know what their last interaction was."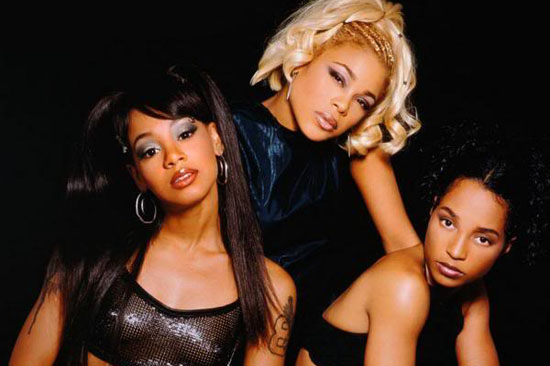 ON IF THEY THINK LEFT EYE WOULD HAVE BEEN EXCITED TO TAKE PART IN THE 20TH ANNIVERSARY TLC ALBUM:
SD: "I think she would be excited to do it for the fans. She felt that TLC was this amazing phenomenon that she was very blessed to be a part of, but she never felt like it was something that she and Tionne [T-Boz] and Rozonda [Chilli] should have been totally doing long term. She always felt like they all had room to grow in different areas, and she was very excited to see how far each of them could go in their respective interests. So she wasn't necessarily all like, oh, let's make another TLC album, let's make another TLC album all the time, but she was very excited to create TLC music for the fans because she so loved the fans, and she would have realized that a 20th anniversary celebration would have been huge to fans. So she would have gotten into it."
RDL: "I definitely think she would have been a part of that. Her intentions were never to leave the group; it was to have her own identity aside from the group. So yeah, I think she would have definitely done an album with the girls and then continued on with her solo projects."
ON TALK OF TLC'S SURVIVING MEMBERS USING A LEFT EYE HOLOGRAM IN SHOWS:
SD: "I have to be honest with you, I think it would be a little freaky to me too. Anyone that knew her, felt such a deep connection that it's still painful for all of us now just to think about her, and a lot of fans feel that also. And I think that the hologram would be very upsetting to people. It would be difficult for me to see her, like moving, and smiling and laughing, that would be very difficult. I wouldn't go that route. I think if they do that, it may have not the outcome that they expect."
RDL: "Actually, I actually thought of the idea doing that even well before 2Pac's, but I didn't know if it actually could be done. And then when I saw 2Pac's, then I was like, okay, well they can do it. I would definitely be okay with it. I don't how my mom...she mentioned it, and when she mentioned it, she seemed okay with it. From the fans, I hear both sides. I hear fans that would embrace it, and other fans say no, it's too real. So I don't know, but I think I would be okay with it. But, that's saying that now, when I see it, that's another story."
"The thing is, I know the kind of stuff Lisa was into, and that's something Lisa would have loved, a hologram. So that's what I think about too."
ON IF LEFT EYE'S FAMILY IS INVOLVED WITH THE FILM OR ANY OF THE PLANS FOR TLC'S 20TH ANNIVERSARY
(INCLUDING TALK OF A TOUR):
RDL: "No, we're not involved in anything actually dealing with TLC. We would love to be involved,  but It's just not the case. I didn't really know about the tour until you mentioned it. I knew about a couple of dates, Japan and PA, but I really didn't know about a tour, I didn't know about the album, you pretty much just mentioned it. And the movie, yeah we knew about it 'cause we had to sign off on it, but we still have nothing to do with the movie, and I don't know the release date or the premiere date."
"The only way I can kind of feel is just disappointed and hurt. I can't point the finger at anyone 'cause I don't know whose decisions these are. It could be a collective decision, it could be one person, I have no idea. But the family always wants to be involved in anything dealing with Lisa, you know what I mean? And TLC deals with Lisa. So we support as much as we can. Me and my brother flew out to London to be there when TLC accepted their award, and, let's see, what award did they get. I can't remember the title of it, but the MTV Japan Awards is happening on June 22, and me and my mom are flying out there to represent for Lisa. So we always want to be involved."
ON LIL MAMA BEING CAST AS LEFT EYE IN THE UPCOMING TLC BIOPIC:
RDL: "Well number one, I would have liked to be told before the whole world knew. We found out online from the fans. My initial reaction was I was kind of in the middle. I didn't know her to be an actor, and I didn't know how well she would do portraying Lisa, so I really didn't know how to feel. I actually got the chance to go up to the set one time, and I did see her doing some of her scenes, and it looked pretty good to me, and I was actually surprised. I told her that she was doing a good job. So hopefully, all the scenes are like that. She's a really big fan, so I think it's important to her to portray Lisa the right way even if some of the stuff in the script isn't really accurate. I know it's important for her to really bring out who Lisa was as a fan."
ON NOT BEING CONSULTED FOR THE TLC BIOPIC:
RDL: "Nothing at all. We didn't even know when they were shooting. The only way I found out was because a friend of mine was cast as an extra and flew down here, and I happened to go up there with her. We didn't know anything at all."
"She [her and Left Eye's mom] was hurt, she was pissed off, and hurt more than anything, but it's like what can we do? Legally, I don't think we can do anything, but it's just more morally, why wouldn't you involve the family? We're right here in Atlanta, and we're open to being involved. And when you don't reach out, it makes you wonder why, question why. We don't know why. 
ON IF SHE (REIGNDROP) WILL COLLABORATE WITH T-BOZ AND CHILLI :
RDL: "I'm getting that from a lot of fans. Probably with T-Boz, probably so. 'Cause she actually did a song with me when I first started doing music that never got recorded, but I don't think, as far as collab'ing with Chilli, that will happen."
During our chat, Reigndrop told me that although they are still in communication with T-Boz, they don't speak to Chilli as often (but they do have a means of reaching her if they need her). Reigndrop, who's a recording artist in her own right (she's known as the "first lady of hip-rock"), has recorded a tribute song for her sister, which will be released in the next few weeks. Both she and Stephanie help plan the Left Eye Music Festival, which launched last year featuring performances from 112's Daron Jones, So So Def recording artist Dondria, and rapper TI's son, Domani. The 2nd Annual Left Eye Music Festival will be held September 28 at the Porter Sanford Center in Decatur, GA.
To keep up with Mara The Hip-Hop Socialite, follow her on Twitter @hiphopsocialite and Instagram @thehiphopsocialite.
Related articles
We give the news and nothing but the news! So help us God!!!
Latest From