'Hidden Figures' Remains Number One At The Box Office
---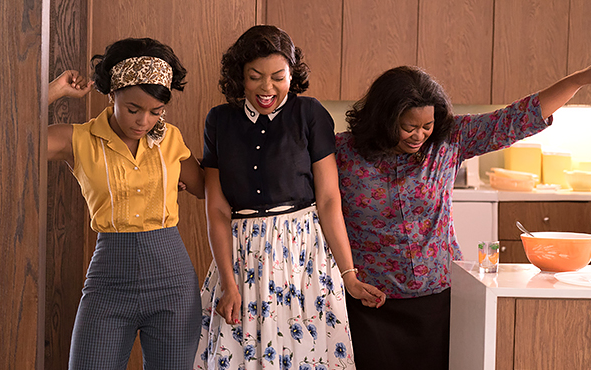 ( 4UMF NEWS ) 'Hidden Figures' Remains Number One At The Box Office:
Hidden Figures
was the biggest movie of the weekend for the second weekend in a row. The acclaimed crowd pleaser used the MLK holiday weekend, an expansion to 3,282 theaters, and the whole "it's great" thing to snag what will be a terrific hold in its second weekend of wide release. The Fox 2000 release earned $20.45 million over the Fri-Sun frame for a likely $25.3m Fri-Mon weekend, or about equal to last weekend's Fri-Sun gross. That will give the superb historical drama a superb $59.6m domestic total by tomorrow. This is what I like to call a "best-case-scenario" performance. It has already outgrossed Fox's other Christmas releases,
Assassin's Creed
and Why Him? (just over/under $55m each) domestically and may well end up being one of Fox's biggest "2016" releases. The Oscar nominations are closed, but if it gets into the big categories, it may have to be considered a late-in-the-game spoiler or at least the proverbial fourth contender alongside
Moonlight
,
La La Land
and
Manchester by the Sea
. Unless it totally collapses from here, a $100 million+ domestic total is all-but-certain for the picture, making it by default one of the bigger grossing Oscar contenders heading into the post-nomination period. But, no matter how it does at the Oscars, it's already a huge hit and another bit of evidence that films like
Hidden Figures
can make lots of money.
La La Land
earned a dynamite $14.5 million (+43%) over the Fri-Sun frame in 1,848 theaters, including 148 IMAX screens, for a likely $17.5m Fri-Mon holiday. That will give the Lionsgate/Summit musical a $77m cume. It's going to end its run as one of Lionsgate's biggest grossing movies ever. Meanwhile, the Emma Stone/Ryan Gosling romance has earned $132m worldwide cume with lots more to come. Even if this movie doesn't win a single Oscar, it's already a massive hit for all parties. Speaking of being a huge hit without winning any Oscars,
Rogue One: A Star Wars Story
earned another $13.8 million over the Fri-Sun frame to bring its domestic total to $498.9m. It will cross $500m tomorrow to be the seventh film ever to do so. That will tie it with Avatar's 32-day sprint to $500m, although it's going to end up around $225m short in total domestically. I'm sure Walt Disney will find a way to cope. It's still kicking butt overseas, with a big $21.9 million overseas weekend, bringing its foreign cume to $481m and its worldwide total to $980m. So yeah, it's going to top $1 billion and it will probably make more overseas than it does in North America. With numbers like this, its relative underperformance in China ($52.9m and heading towards a $60m finish) is all-but-irrelevant. Oh, and
Moana
has now earned $231m domestic and $482m worldwide, so they've got that going for them too.
Source
Latest From