Rosario Dawson Talks Living
---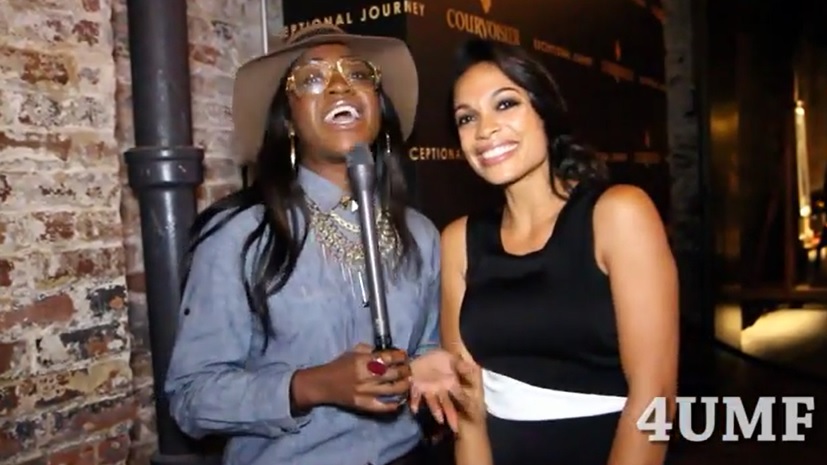 ( 4UMF NEWS ) Rosario Dawson Talks Living:
Rosario Dawson Talks Living For Now At Courvoisier Exceptional Journey!!!
4UMF was in the house with the beautiful and talented Rosario Dawson to join Courvoisier cognac at Industria Superstudio in NYC's West Village for an Art + Fashion event that celebrated the cognac brand's existing Exceptional Journey campaign.
4UMF had the pleasure to speak with the lovely Rosario Dawson, one of the celebrity Courvoisier Brand Ambassadors for their Exceptional Journey celebrating the path towards achieving excellence and recognizes individuals who have fully embraced the journey by reaching outstanding heights in their craft. Rosario Dawson told us that she was honored to be part of such an amazing event that unveiled two new artistic collaborations in the worlds of art and fashion by a renowned group of artists and designers, who brought together for the project for the Exceptional Journey campaign.
Rosario told us that her favorite quote "the journey is the destination" and how she is excited that a movie about English-born Kenyan photojournalist, artist and activist Dan Eldon life is finally being made. She explains that Eldon was stoned to death in Somalia at the age of 23, so his story speaks loud to her. The Luke Cage star explained to 4UMF.com how "the journey is the destination" is so meaningful to her since she is always traveling and working. She talks about how we all may have a five year plan, but you never know when that can be ripped away, so remember that your goal is right here, right now. Rosario emphasizes to be here right now in the moment, because you never know what can happen. Rosario Dawson, who can also be seen in the upcoming Clerks III couldn't get enough from the amazing talented works of American cubist painter Jack Laroux and iconic French outerwear company K-Way unveiled a vibrant one-of-a-kind bespoke jacket, while fashion house EN NOIR teamed up with French creative studio and design lab Bonsoir Paris on a contemporary fashion/art installation for this unique project. Both were unveiled to great fanfare during the evening.
Watch Rosario Dawson enjoying the evening with 4UMF.com:
We give the news and nothing but the news! So help us God!!!
Latest From