This Day In History 5/11 - Bob Marley Died From Cancer
---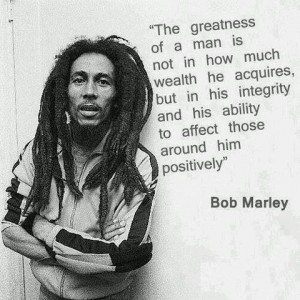 ( 4UMF NEWS ) This Day In History 5/11 - Bob Marley Died From Cancer: He was the embodiment of reggae music, Rastafarian culture, peace, love and ganja. Nesta Bob Marley, the man with a charismatic spirit, uncanny stage presence and immaculate musical talent, passed away in Florida — eight months after he was diagnosed with cancer — on May 11, 1981. It's hard to believe that Marley was only with us for 36 years, but he devoted more than half of his life to music. Marley was born in rural
St. Ann Parish
, Jamaica, on Feb. 6, 1945. When he was just nine years old, he met Neville "Bunny" Livingston (later
Bunny Wailer
) and Peter McIntosh (later
Peter Tosh
). By the age of 14, he dropped out of school to pursue music full-time, thus laying the foundation for
Bob Marley and The Wailers
. It wasn't until the early 1970s, when Marley founded the
Tuff Gong
record label, that the world took notice of Marley and the Wailers. They gained international recognition in 1972 with their first hit outside of Jamaica when
Johnny Nash
covered their song "Stir It Up," which became a hit in
the United Kingdom
. The following year, Catch a Fire was released worldwide, featuring the single "
I Shot the Sheriff
." Marley's career skyrocketed with the release of Exodus in 1977, which featured singles "Jamming," "
Waiting in Vain
" and "
One Love/People Get Ready
." The album was named Album of the Century by Time Magazine. Over the course of his life, Marley released more than 10 albums and 100 singles. He is an international legend and still holds on to the title of the best reggae artist ever.
[Source]
Related articles
Latest From