Lee Daniels' The Butler Movie Review
---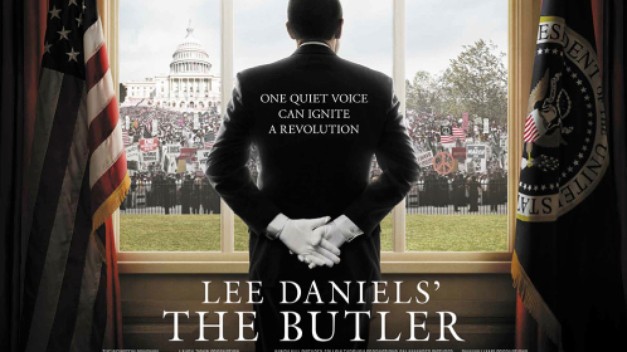 ( 4UMF NEWS )
Lee Daniels' The Butler
Movie Review: Far and few between a powerful movie (with major distribution) hits the big screen that is meant to educate, entertain and inspire the African American community of all ages.
42
, which chronicled Jackie Robinson's historic journey to integrate America's favorite pastime, was released earlier this year. Though many know his story, it was still important to shed an unbiased light on obstacles of racism he had to hurdle to become the first Black baseball player. It is not uncommon for famous athletes to be the subject of a movie. It is less likely for a butler's life to receive the Hollywood treatment. But
Eugene Allen
was no ordinary butler. Born into slavery, Allen left the cotton fields and plantations of the South and ended up with a front row seat to witness to some of the most memorable events that have affected and helped shape this country during his 34 years working at the
White House
. This is the inspiration behind
Lee Daniels' The Butler
. Gaining notoriety with his breakout film Precious, director Lee Daniels is back to tell a moving and uplifting story in Black history, as well as America's history. Academy award winner
Forest Whitaker
plays butler Cecil Gaines. With stoicism, reserved dignity and a quiet strength, Whitaker fully embodies the character. His story begins on a southern plantation. Scarred by his father's murder and his mother's mental illness, Gaines sets off for the North at a young age. He learned how to serve white people as a means of survival and that skill would earn him the position of a butler in the White House during the Truman administration. What Gaines witnesses while serving eight presidents is a unique look from one man's perspective but his personal life is far more interesting. Lonely because of his long hours at the White House, his wife Gloria turns to alcohol and cad of a neighbor played by a gap-toothed Terrene Howard. A father of two sons, a helpless Gaines watches his oldest son Louis, played brilliantly by David Oyelowo, drop out of school to join the Freedom Fighters. The true heart of this film is the father/son relationship. Clearly from two different generations, Gaines believes the best way to seek change is to not ruffle the feathers of the "white man" but to work from within the establishment. Louise, on the other hand, traveled by bus to small towns in the South, risking his freedom and wellbeing for equal rights. Louis is ashamed of what his father does for a living while his father cannot grasp why his oldest son cannot conform to the status quo. This internal family struggle is something many can relate to. How often do we feel our parents' ways of thinking are antiquated? How many parents silently watch in horror as our children make decisions that we think will ruin their lives? We watch father and son, both initially too stubborn to see the other person's point of view, quarrel and feud while some of this country's ugliest and darkest history plays out before our eyes. Daniels does an excellent job of taking the viewer on a wild roller coaster ride of emotions, soliciting tears of laughter in one scene before sobs of sorrow choke the audience an instant later. Using one of the most poignant visual displays of cinema that hasn't been seen in a long time, Daniels cuts back and forth to show the juxtaposition of father serving at one of the many state dinners held at the White House while son is on the receiving end of venom and blows during his first sit-in.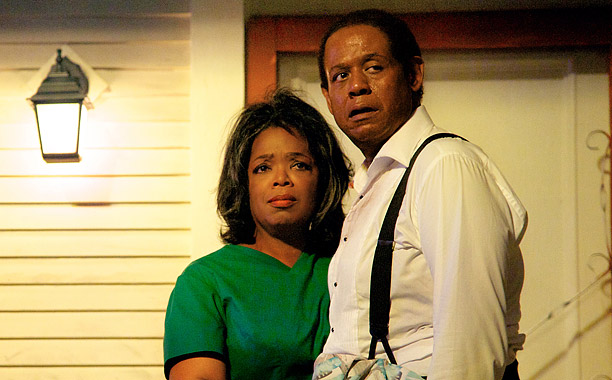 Many will no doubt come out to support Oprah Winfrey. The talk show maven last appeared on the silver screen in Beloved, a passion project that was a decade in the making. One of the few stumbles in her career that didn't benefit from Winfrey's Midas touch, the movie based on Toni Morrison's novel of the same name, was a colossal flop. 15 years later, she's ready for her close up again as Gaines' alcoholic and slightly unfaithful wife. Watching Winfrey get lost into a whiskey sipping, cigarette smoking, Soul Train dancing Gloria is delightful. The film is receiving early Oscar buzz and with good reason. When has a star-studded cast of this magnitude gotten together to for a project that resonates in
Black communities
with such a magnitude like this?
Cuba Gooding, Jr.
, and Lenny Kravitz play fellow butlers and friends to the Gaines family. White audiences may come out to see
Jane Fonda
as the high-heeled Nancy Reagan, James Marsden as the dashing President Kennedy, John Cusack and the nervous and sweaty Nixon or a transformed Robin Williams into President Eisenhower. Unfortunately, the film falters with its portrayal of the Black Panthers. Unfairly portrayed as gun-ho militants, their free services that were provided to poor Black communities was white washed. Perhaps this is because the screenplay was co-written by white writer Danny Strong. Which may also help to explain the favorable light
President Ronald Reagan
was portrayed in. Or why Louis' girlfriend and fellow Freedom Fighter turned Black Panther member was villainized. Daniels does a great job of taking historic elements and interweaves them with an entertaining Hollywood story. He shines an unflattering light on this country's struggle with racism with images from the past that should make anyone watching uncomfortable, at the very least. Daniels' well-balanced use of the "n-word" in its proper context made sure the word itself didn't overshadow or become another cast in the film unlike
Django Unchained
. The film itself opens with
Dr. Martin Luther King, Jr.
's quote, "Darkness cannot drive out darkness; only light can do that. Hate cannot drive out hate; only love can do that."
Lee Daniels' The Butler
is a light that looks into this country's dark past and is told through our own eyes. This is a film that rarely happens and should be watched, supported and celebrated. And it's a damn good story.
Latest From