Pizza Hut Manager Fired For Peeing In Kitchen Sink
---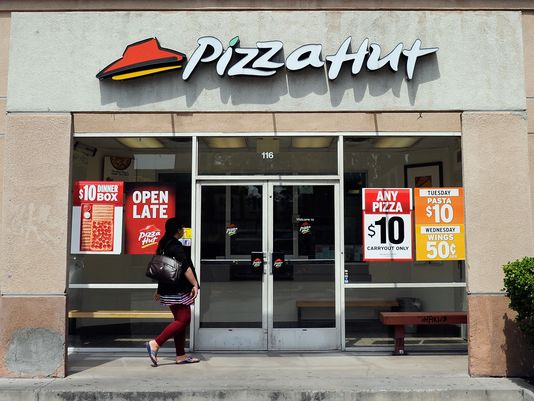 ( 4UMF NEWS )
Pizza Hut
Manager Fired For Peeing In Kitchen Sink: Here's an extra special ingredient that no one wants on their pizza: pee. But one Pizza Hut in Kermit, West Va., seems to have come a bit too close to almost serving up a taste of that. Red-faced Pizza Hut officials are fumbling to explain the video of a Pizza Hut district manager — make that, former district manager — who local
TV station
WOWK-TV
caught urinating in the very same sink that the store also uses to wash utensils. And, no, the manager was not removing an extra-tough stain. In the video, the former manager actually undoes his pants and relieves himself. "First of all, we are embarrassed by the actions of this individual," says Pizza Hut, in a statement. "Pizza Hut has zero tolerance for violations of our operating standards, and the local owner of the restaurant took immediate action and terminated the employee involved." The incident, which occurred during non-business hours, did not include any
food
tampering, says Pizza Hut in its statement. "We follow strict safety and handling procedures and the restaurant has since been closed. We apologize to our customers of
Kermit, West Virginia
, and those in our system who have been let down by this situation." To be sure,
fast-food
employees doing gross things at work is hardly unique to Pizza Hut. Back in 2009, a video
went viral
of a
Domino's
employee picking his nose and placing his findings in the food he's making. Last year, a video also went viral of a
Taco Bell
employee licking a long stack of taco shells. That was quickly followed by a viral image of a
Wendy's
employee drinking directly out of a Frosty machine. Is this silly-but-sick stuff contagious in the fast-food world?" No, says public relations guru Peter Himler. "It may be that local media tends to gravitate to this kind of sensationalistic story involving big-named fast food establishments," he says. Even then, he adds, Pizza Hut needs "to make a forceful case that this is an isolated incident that does not reflect on the company's culture or workplace procedures." The store was closed on Tuesday and will not reopen until it has been completely sanitized and received a clean bill of health from the health department, says spokesman Doug Terfehr. But like all of the other fast-food incidents, this one, too, will quickly fade, says Himler. "I doubt this will have a long-term negative affect on Pizza Hut's reputation," he says. "Blaring headlines today usually fade quickly into the rear view mirror by tomorrow." Meanwhile, some folks in Kermit have to be wondering, the next time they order from the local Pizza Hut, do they have to remind whoever answers to phone to, well, hold the pee?
Source
Latest From