Two Hostages And Gunman Dead
---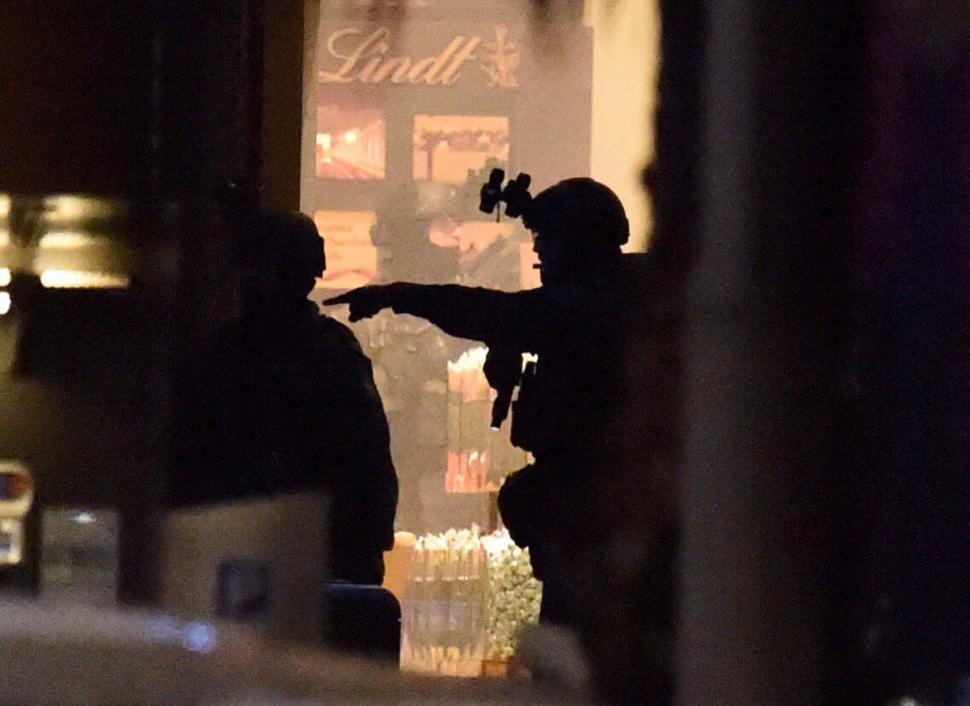 ( 4UMF NEWS ) Two Hostages And Gunman Dead:
It's over.
After 16 hours, the standoff between a gunman who had held as many as 17 hostages in a Sydney chocolate shop and the cops has ended, leaving three people dead.
Heavily armed cops stormed the Lindt Chocolat Cafe early Tuesday after a handful of hostages were seen running away. The gunman, identified as Man Haron Monis, was shot dead by cops.
Two hostages, a 34-year-old man and a 38-year-old woman, were killed, cops say. Four additional hostages have been hospitalized, including a woman who was shot in the leg. Six hostages were uninjured.
In addition, a police officer suffered a gunshot wound to the face and has been hospitalized. One crying woman was helped by officers and at least two others were wheeled out on stretchers.
A gurney at the scene appeared to be carrying a man lying under a blood-soaked sheet with a bloody handprint in the middle. A woman with blood-covered feet was on the second gurney.
Police were acting cautiously after a report surfaced that Monis planted four bombs both inside the cafe and around the nearby financial district.
Cops were called about 9:45 a.m. Monday to the cafe in the city's financial center, where the man, an Iranian refugee, pulled a gun from his blue sports bag and interrupted the bustling morning commute by taking hostages and hanging a black flag with white Arabic writing in the window.
The flag appears to say, "There is no God but Allah; Muhammed is the Messenger of Allah," a statement of Islamic faith that appears on the Saudi Arabian flag and the flag of extremist group ISIS.
During the ordeal, several of the hostages were filmed, with a man behind them holding the same black flag, urging officials to heed Monis' demands.
"He's only asking for a flag and a phone call, and that's it," one woman says in one short, 40-second clip filmed inside the Lindt Chocolate Cafe.
Those clips were posted to YouTube but quickly taken down after the video site deemed the films in violation of its terms of service. The videos quickly popped up elsewhere, including on LiveLeak, but Australian officials urged members of the media not to broadcast the clips.
"We're working to establish who this person is and what their motive is," Deputy Commissioner Catherine Burn said in an afternoon briefing.
Monis, who was born Manteghi Bourjerdi, has had multiple run-ins with the law. He was convicted of sexual assault, charged in connection with the stabbing death of his ex-wife and known for sending hate letters to the families of Australian soldiers killed overseas. He fled Iran for Australia in 1996.
Last year his former wife was stabbed 18 times and set on fire. Monis' girlfriend is accused of the slaying and Monis was accused of being an accessory. Monis is also an outspoken critic of the NATO presence in Afghanistan.
"This is a one-off random individual. It's not a concerted terrorism event or act. It's a damaged goods individual who's done something outrageous," Manny Conditsis, his former lawyer, told Australian Broadcasting Corp.
The scene grew chaotic six hours into the standoff when three male hostages, including one employee, got out of the cafe at 3:38 p.m. An employee wearing an apron left through a rear door toward a waiting pack of heavily armed tactical officers while two more dashed from the main entrance with their hands up.
One of the men is being treated for shock at a local hospital, News 9 reported.
Two women in aprons who appeared to be employees made a hurried escape just before 5 p.m. In an emotional scene, one of the women ran into the arms of a gun-toting officer.
"We're just pleased to see them out," New South Wales Police Commissioner Andrew Scipione said.
New South Wales Premier Mike Baird and the commissioner spoke with area Islamic leaders
"We are in this together," Baird assured at an evening press conference.
Latest From