Detroit Lions Owner William Clay Ford Dead
---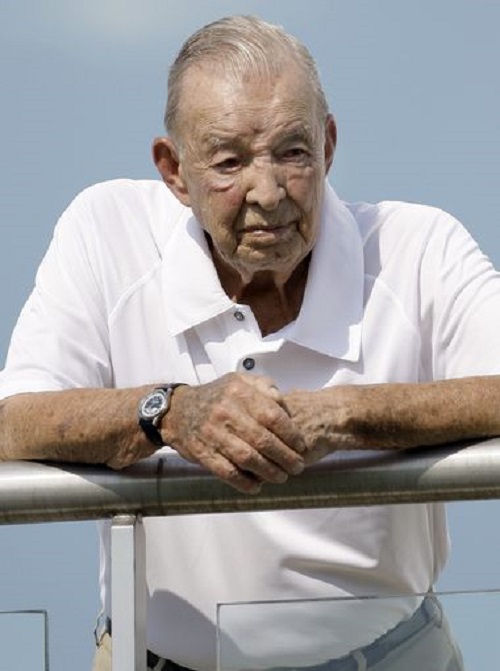 ( 4UMF NEWS ) Detroit Lions Owner William Clay Ford Dead:
Detroit Lions owner William Clay Ford, the grandson of auto pioneer Henry Ford, died this morning, according to Ford Motor Co.
Ford, 88, had been increasingly reclusive around the team in recent years as his health became fragile. He made one appearance at training camp last summer, was in a wheelchair when he attended home games at Ford Field, and had at least three previous heart operations.
The team president and a Ford Motor Co. executive in the early 1960s, Ford bought the Lions for $4.5 million in the fall of 1963 and has run the organization for the past 50 years.
The Lions won just one playoff game in Ford's tenure, a 38-6 victory over the Dallas Cowboys in January of 1992, and the owner had a dubious relationship with his fan base.
Known by players and executives within the organization and across the league for his uncommon wealth and generosity, Ford was frustratingly loyal to the men he put in charge of running his team.
Russ Thomas spent 22 years as general manager and made one playoff appearance. Wayne Fontes is both the winningest and losingest coach in team history. And Matt Millen amassed a league-worst 31-84 record as GM from 2001-08.
Millen, in an interview last fall, said Ford's loyalty was a product of his upbringing and the lessons he learned living a fruitful but private life.
The two men grew close during weekly conversations both at the Lions' Allen Park headquarters and at Ford's Grosse Point home. They talked, Millen said, about history, football and faith, often with Ford eating baloney sandwiches on white bread.
"I loved Mr. Ford," Millen said. "I think the world of him. Like I said, I wish the people of Detroit could know him the way I know him. I came away a better person for knowing him and I probably didn't return the favor, but I thought the world of him."
Bobby Ross, the Lions head coach from 1997-2000, said he had offers from two other teams to be head coach when he opted to come to Detroit because of Ford.
"He was a wonderful man," Ross said. "I mean, from the first day that I meant him on my interview to the very last, he's a special human being. And not only that, but a really good owner. Took an interest in the players, a strong interest. I mean every ball game at home he'd be down in that dressing room walking around, talking to the players, a good hour, hour and a half before the game. Maybe two hours before. And then I would meet with him after every home game for probably a couple hours. And we'd go over everything and I'd give him the run down. He was involved, but yet he let you do your job, too.
"That's what I liked about it, he was very involved and I liked that, I thought that was good. But he was just a good, good kind man, too. I don't know that I could have had a better person to work for than that man right now."
Ford is survived by his wife Martha, and his four children, Martha, Sheila, Elizabeth and Bill Jr., the team's vice chairman who's taken an active role in the Lions front office in recent years.
Funeral arrangements are pending.
Related articles
Latest From